Nowadays, everyone wants to know how one can make money from Instagram. The increasing popularity of Instagram, making it one of the most using applications worldwide. With over a billion monthly users, 71% of whom are under 35, Instagram is the most effective social media platform for marketing, advertising, and influencing. And also a platform to make money from home by sitting in the front of the desktop.
Today, Instagram ranks 3rd on the list of the Top 15 most popular social networking sites, with over a billion monthly users and over 500 million active users posting photos and videos every day.
Making money from Instagram can seem like a challenge at the beginning. But no worries, In this article, I will tell you about the top ways that will help you in making money on Instagram in 2020.
Ways to Make Money From Instagram
1. Work as an Influencer:-
The first thing that comes to mind when you hear the phrase 'Instagram influencer' is sponsored posts. That is why because Instagram has more than 500,000 active influencers (as of early 2020). The base requirement to work as an Instagram influencer is to have a good amount of followers and a competitive engagement rate.
An influencer post includes the creation of content such as an Instagram post or an Instagram story, that will include the promotion of the brand they are associated with or their products. You need to understand your audience and their interest so you know which brands would best fit your audience.
Sponsored content on Instagram is a photo or video that highlights a particular product or a brand. These posts have captions that may include branded hashtags, @mentions, or links. When businesses look for influencers to promote their products, they want someone who has a following made up of people in their niche industry.
Choose a niche that is relevant to your lifestyle and then post images, and build your audience around this. You will then become a valuable influencer to businesses in your particular industry. The idea behind that is to show off brands that you can personally get behind and to show your followers how that brand fits into your lifestyle.
TapInfluence

is a tool for Instagram creators who are looking for opportunities for sponsored content. You can create a profile that describes you and the nature of your content, and brands who are looking for such a profile to work with will invite you to do collaborations.

Ifluenz

is another easy tool that helps you to browse matching available campaigns created by a variety of brands and you can directly promote the ones you want to.
It's important that any brands or products you choose to promote are a good fit for your own personal image on Instagram. The quickest and easiest way for Instagrammers to make money through sponsored posts is to sign up with an influencer marketplace.
2. Be an affiliate marketer:-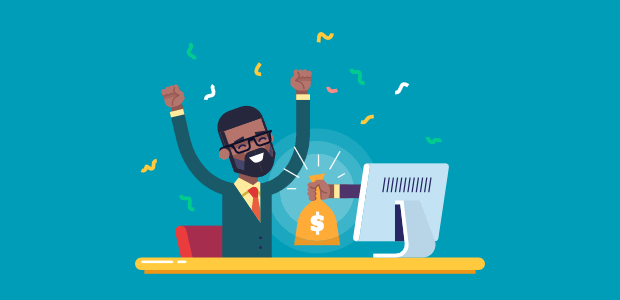 Affiliate marketing is one of the biggest buzzes in today's era. Many are making money by doing affiliate marketing. Affiliate marketing refers to when you promote a product and get paid per sale. You could become an affiliate for different brands and receive a commission on what you sell. 
Affiliate marketing is most commonly used by bloggers, who promote affiliate products by discussing them in their articles. On Instagram also one can make money by Affiliate marketing. With Instagram, you post attractive images highlighting other products and drive sales through your affiliate URL (provided by your affiliate).
The difference between an influencer and an affiliate is that an affiliate is working towards making sales for the partnering brand in exchange for a commission where the influencer is mainly aiming to create & spread awareness about their collaborating brand.
The best part about affiliate marketing is that you don't need to worry about producing that product or fulfilling orders. By following these steps you can start affiliate marketing and start making money from it.
Register yourself as an affiliate marketer on affiliate program sites.

Select the products you want to promote.

Create & Copy URL provided by the affiliate.

Start sharing affiliate links on your social profile. 
Affiliate marketing is easy to start and one can earn passive income by affiliate programs. You just need to share affiliate links or URLs on your captions or on your bio on Instagram. Create and post content that can best fit in your affiliate niche. Increase audience engagement, interact with them and influence them to click on the affiliate link. 
3. Become an Entrepreneur:- 
This is a great way to create more awareness of the products you're selling. Your Instagram page are often filled with attractive pictures with people showcasing the products. If you already have an e-commerce shop, or sell products on platforms like Etsy or Amazon, then using the 'Shopping on Instagram' feature to increase your revenue is a must. Shopping on Instagram feature has suddenly made it easier to sell products and make money on Instagram.
Rather than using your personal brand to sell other people's products, sell your own. And if you already own a business, selling on Instagram is an obvious addition to your marketing strategy. Turning your audience into your customers may well be a natural fit. 
You need to follow these simple steps to set up your business account and can start making money from Instagram. 
Step-1:- Select a catchy username carefully.
Step-2:– Set up a business profile.
Step-3:- Use tracking links.
Step-4:- Engage the audience as much as you can. 
Step-5:- Showcase your personality wisely.
The above steps will help you to create a good social profile. And your content will help to attract the right kind of audience. Use content wisely and post content that your audience wants to read and know about. Give a chance to your audience to make content for you. Audience generated content increases reliability and you will get genuine followers. You can use Instagram as the best marketing channel for your business. Make sure that you have an active presence to attract the right type of accounts. Use appropriate hashtags to pull people towards your business.   
Conclusion:- 
As we all know, Instagram is the fastest growing social media platform. It has many opportunities for newcomers. You can make money from Instagram by only having a good social presence. Above given 3 ways of making money from Instagram will definitely help you. 
Try to identify your passion and pursue a career for which you're excited about. Be sure to keep your personal brand in mind and treat what you do as a business. Give your complete efforts to get results. Remember, the Empire can't be built overnight. Work hard to achieve your goal in life.